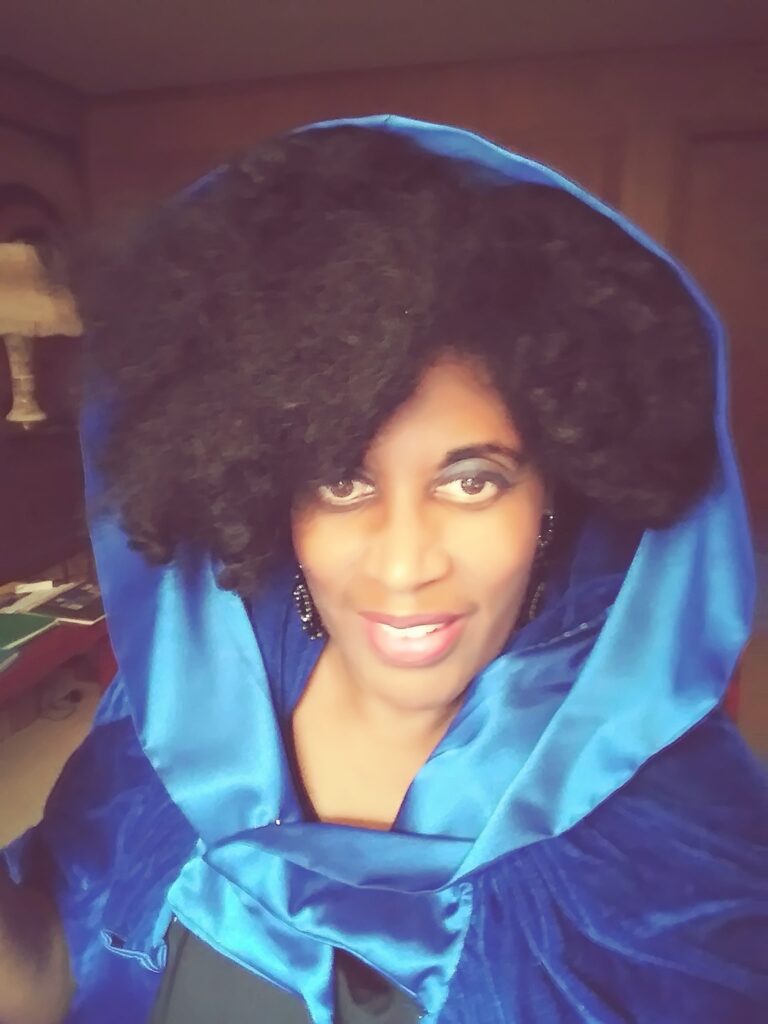 Flint's First Poet Laureate
Welcomes you to the Poetry of the Harlem Renaissance Recited by members of Zeta Beta Zeta Chapter of Zeta Phi Beta Sorority, Inc.
ABC 12 News Interview with Poet Laureate, Semaj Brown about Zeta Beta Zeta Poetry Gallery launch
By ABC12 News Staff
Published: Oct. 14, 2021 at 11:15 AM EDT
An Evening of Harlem Renaissance Poetry Co-hosts:
Semaj Brown, Flint's First Poet Laureate
Karen Utsey, President of Zeta Beta Zeta Chapter of Zeta Phi Beta Sorority , Inc.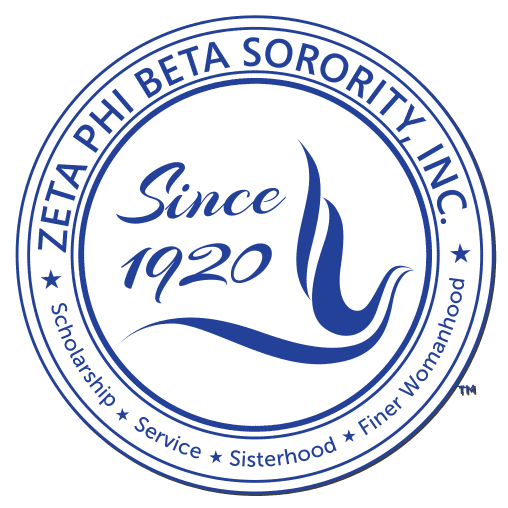 Thank you to Our Community Partner!
Zeta Foundation-Flint in Collaboration with Zeta Beta Zeta Chapter of Zeta Phi Beta Sorority, Inc.
Harlem Renaissance Poetry Gallery
Dream Boogie by LANGSTON HUGHES

Recited by Semaj Brown | Flint's First Poet Laureate
Quotes by Zora Neale Hurston

Recited by Lynese Thomason
If We Must Die by Claude McKay

Recited by Jannora Lauderdale
Ma Rainey by Sterling A. Brown

Recited by Trishanda Williams
Saturday's Child by Countee Cullen

Recited by Doris Clark
Yet I Do Marvel By Countee Cullen

Recited by Kimberly Mears Robbins
Incident by Countee Cullen

Recited by Karen Utsey
I, Too by Langston Hughes

Recited by Davina Whitaker
Common Dust by Georgia Douglas Johnson

Recited by Dr. Linda Itson
I Want to Die While You Love Me by Georgia Douglas Johnson

Recited by Maria Boyd Springer
The Tropics in New York by Claude McKay

Recited by Cheryl Brown-Cornelius
Translation by Anne Spencer

Recited by Teresa Lucas
Georgia Dusk by Jean Toomer

Recited by Renea Rubin
Mother to Son by Langston Hughes

Recited by Dr. Ladel Lewis
About the Harlem Renaissance
The Harlem Renaissance was the development of the Harlem neighborhood in New York City as a Black cultural mecca in the early 20th Century and the subsequent social and artistic explosion that resulted. Lasting roughly from the 1910s through the mid-1930s, the period is considered a golden age in African American culture, manifesting in literature, music, stage performance and art.

The Harlem Renaissance was an intellectual and cultural revival of African American music, dance, art, fashion, literature, theater and politics centered in Harlem, Manhattan, New York City, spanning the 1920s and 1930s. At the time, it was known as the "New Negro Movement", named after The New Negro, a 1925 anthology edited by Alain Locke. The movement also included the new African American cultural expressions across the urban areas in the Northeast and Midwest United States affected by a renewed militancy in the general struggle for civil rights for African Americans that occurred in the wake of civil rights struggles in the then-still-segregated US Armed Forces in WWI and which was further inspired by the NAACP, the Garveyite movement and the Russian Revolution, combined with the Great Migration of African American workers fleeing the racist conditions of the Jim Crow Deep South,[1] Harlem being the final destination of the largest number of those who migrated north.
Though it was centered in the Harlem neighborhood, many francophone black writers from African and Caribbean colonies who lived in Paris were also influenced by the movement,[2][3][4][5] which spanned from about 1918 until the mid-1930s.[6] Many of its ideas lived on much longer. The zenith of this "flowering of Negro literature", as James Weldon Johnson preferred to call the Harlem Renaissance, took place between 1924—when Opportunity: A Journal of Negro Life hosted a party for black writers where many white publishers were in attendance—and 1929, the year of the stock-market crash and the beginning of the Great Depression. The Harlem Renaissance is considered to have been a rebirth of the African-American arts.[7] Many people[who?] would argue that the Harlem Renaissance never ended and has continued to be an important cultural force in the United States through the decades: from the age of stride piano jazz and blues to the ages of bebop, rock and roll, soul, disco and hip-hop.
Poets of the Harlem Renaissance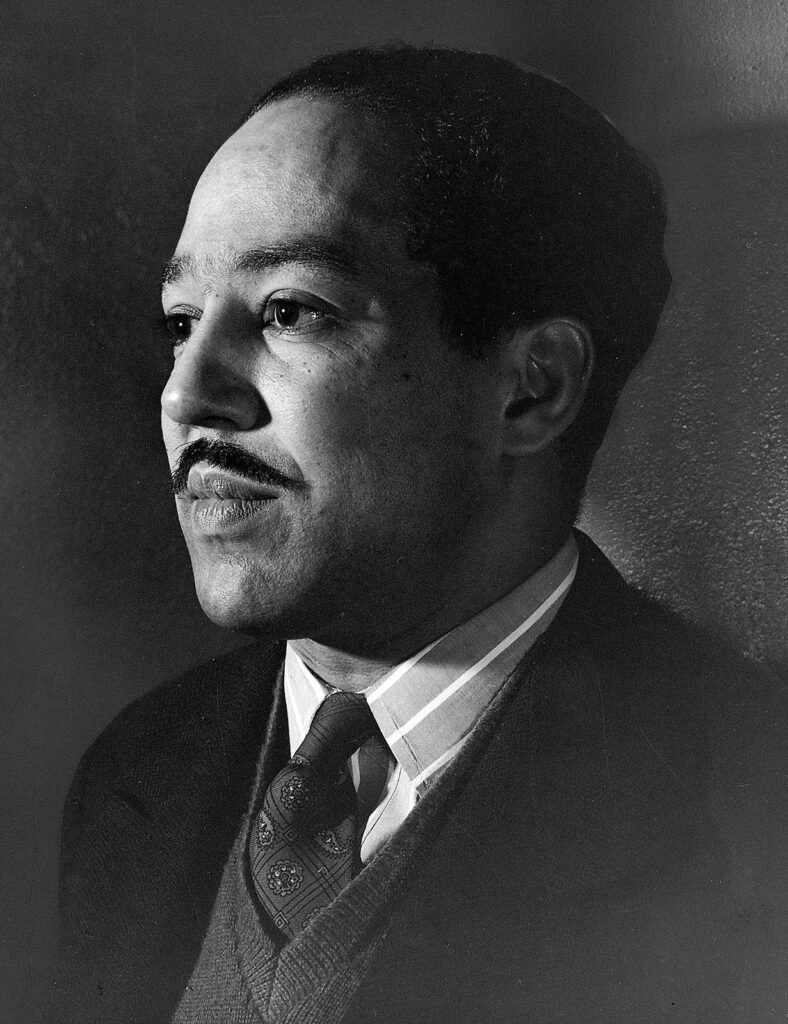 Langston Hughes
Joplin, Missouri – 1901-1967
Langston Hughes an important figure in the Harlem Renaissance. He made the African American experience the subject of his writings, which ranged from poetry and plays to short stories and novels.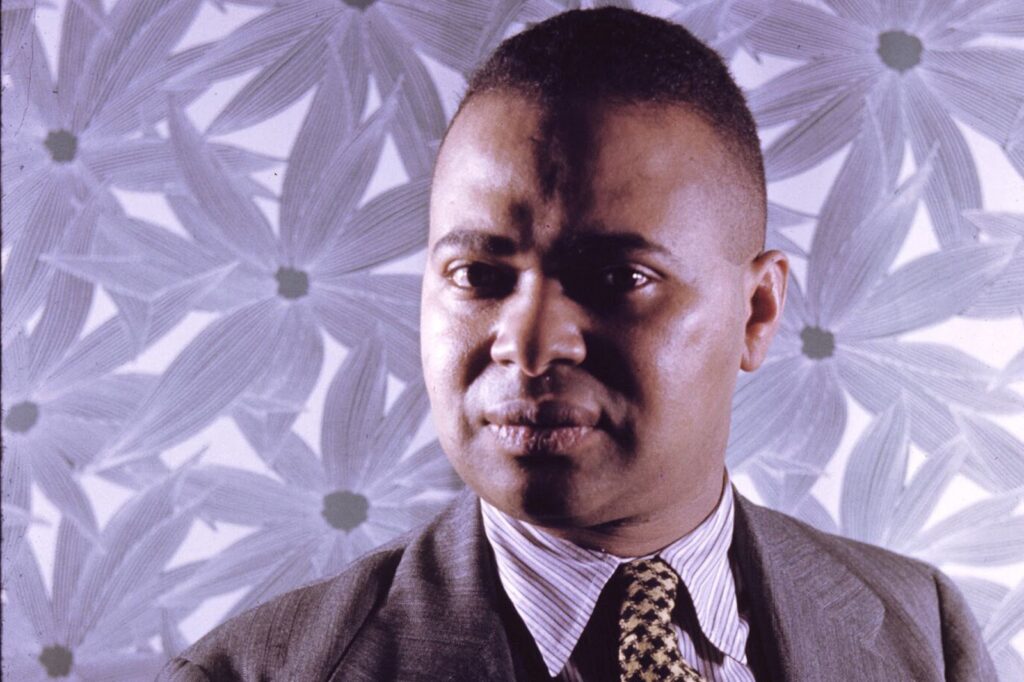 Countee Cullen
Louisville, Kentucky – 1903-1946
Although born in Louisville, Kentucky, Cullen was raised in a Methodist parsonage in New York. He was an imaginative lyric poet who wrote in the tradition of English poets, Keats and Shelley.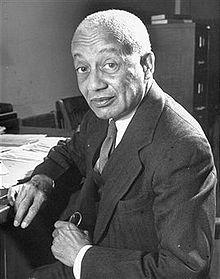 Alain LeRoy Locke
Philadelphia, Pennsylvania – 1885-1954
Alain Locke was an American writer, philosopher, educator and patron of the arts. He was distinguished in 1907 as the first African American Rhodes Scholar.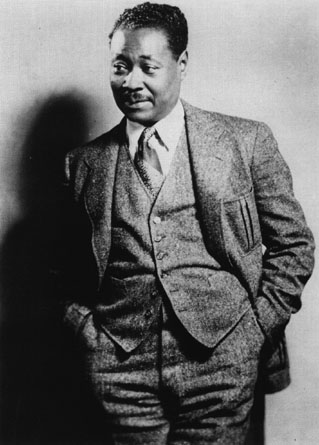 Claude Mckay
Sunny Ville, Jamaica – 1889-1948
Claude McKay was a Jamaican writer and poet. His work ranged from vernacular verse celebrating peasant life in Jamaica to poems that protested racial and economic inequities.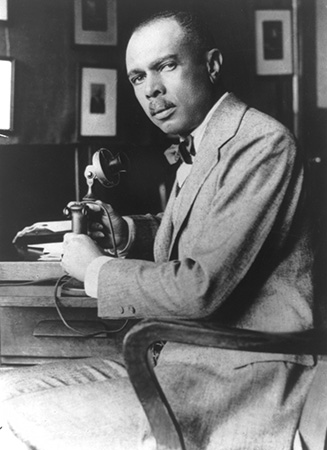 James Weldon Johnson
Jacksonville, Florida – 1871-1938
James Weldon Johnson was an author, lyricist, poet, diplomat, attorney and leader of the NAACP. "Lift Every Voice and Sing- The Black National Anthem- was written by James Weldon Johnson as a poem turned into a hymn. It was set to music by his brother, J. Rosamund Johnson for the anniversary of Abraham Lincoln's birthday in 1905.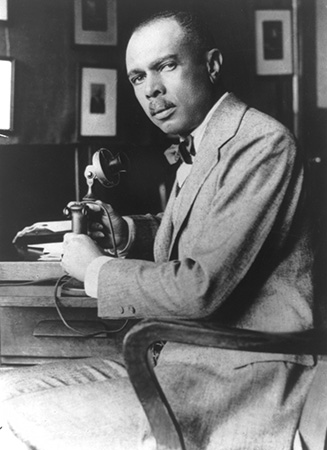 Jean Toomer
Washington, D.C.- 1894-1967
Although Toomer is commonly associated with the Harlem Renaissance, he actively resisted the association. Toomer's grandfather, Pinckney Benton Stewart Pinchback was the first African American governor in the United States, serving in Louisiana during Reconstruction from 1872-1873.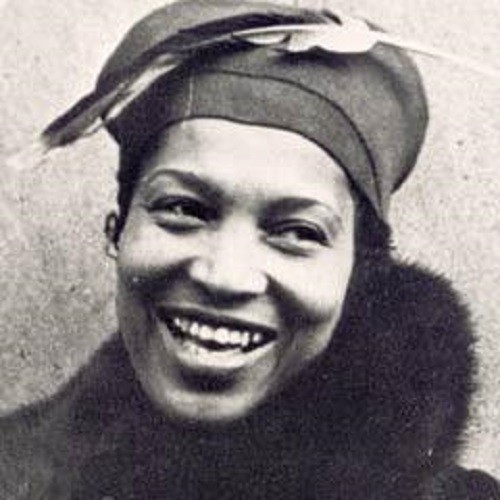 Georgia Douglas Johnson
1880-1966- Atlanta, Georgia
Georgia Douglas Johnson was one of the few women who were Harlem Renaissance figures. She was a poet, playwright, editor, music teacher school principal, and pioneer in the Black theater movement and wrote more than 200 poems, 40 plays, 30 songs, and edited 100 books.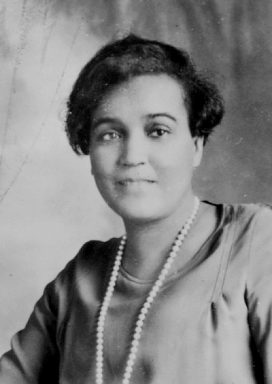 Jessie Redmon Fauset
1882-1961- Camden County, New Jersey
Jessie Redmon Fauset grew up in Philadelphia and attended the Philadelphia High School for Girls. She received a scholarship to study at Cornell University, where she was likely the first black female student, and graduated with a BA in classical languages in 1905.ooks.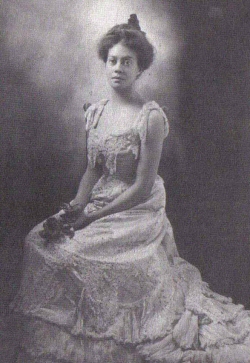 Alice Dunbar Nelson
New Orleans, Louisiana – 1875-1935
Alice Dunbar Nelson graduated from college in 1892, and taught school for six years. She began publishing her poetry and short stories at age 20. She met and later married Paul Laurence Dunbar in 1898. She was a novelist, poet, essayist, critic and political activist associated with the early period of the Harlem Renaissance of the 1920's and '30's.s in 1905.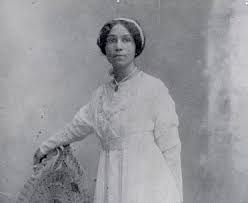 Anne Spencer
Henry County, Virginia – 1882-1975
Anne Spencer was an American poet, teacher, librarian, gardener, and civil rights activist. She's best remembered as an important figure of the Harlem Renaissance and as the second African American poet to be included in the Norton Anthology of Modern Poetry.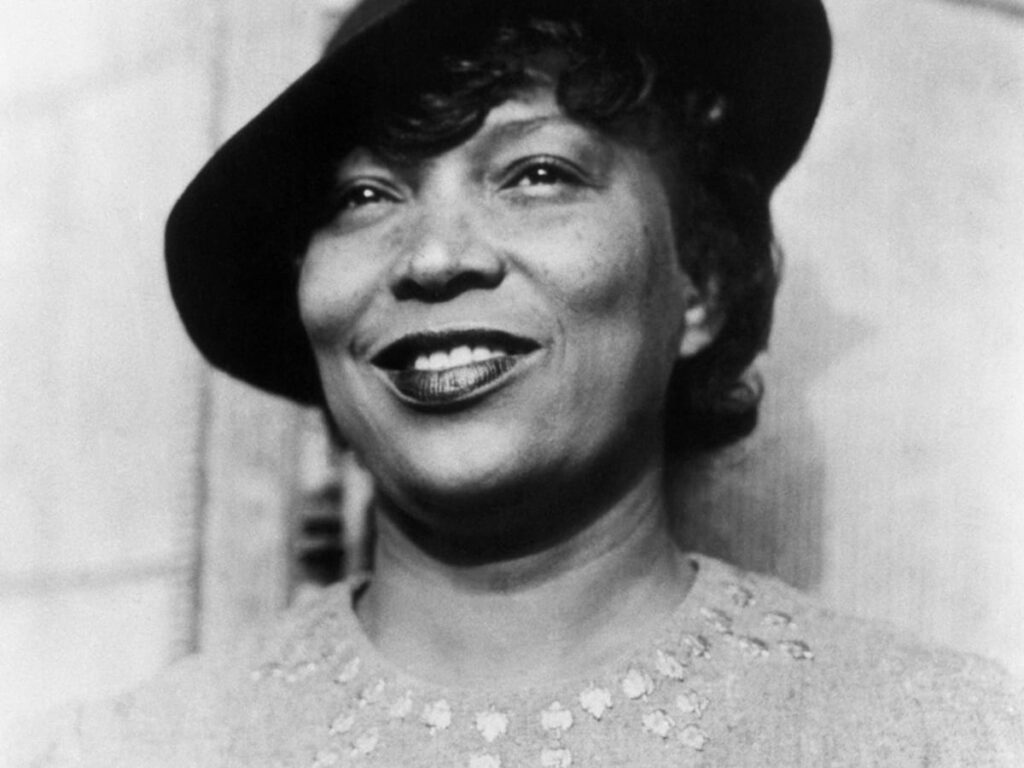 Zora Neal Hurston
Nostasulga, Alabama – 1891-1960
Zora Neale Hurston is considered one of the pre-eminent writers of twentieth-century African-American literature. Hurston was closely associated with the Harlem Renaissance and has influenced such writers as Ralph Ellison, Toni Morrison, Gayle Jones, Alice Walker, and Toni Cade Bambara.
Gratitude/Credits
Thank You Academy of American Poets with funds from the Melon Foundation for making this evening possible!
Thank you for supporting, sharing, commenting, registering, attending and celebrating in your hearts and spirit with us the magnificence of the Harlem Renaissance Era Poetry!!!
Thank You to the Community Partners of the Flint's Poet Laureate, Semaj Brown for the year 2021, Zeta Foundation-Flint in collaboration with Zeta Beta Zeta Chapter of Zeta Phi Beta Sorority, Inc.
Thank you, Mrs. Karen Utsey, President of Zeta Beta Zeta Chapter
A true joy to work with your glowing leadership!
Thank you, Ms. Renea Rubin, President of Zeta Foundation-Flint
Your Waiting Room Musical and Visual Creation was magical transporting us to 1928!
Thank you, Mrs. Lynese Thomas, Madame Director of Michigan State Organization for your participation!
Thank You, Harlem Renaissance Committee of Zeta Beta Zeta: Karen Utsey, Renea Rubin, Dr. Maria Boyd, Tee Lucas, Doris Clarke:
Dr. Maria Boyd-Springer literary logistics, how I enjoyed the reading and distribution of every poem with you!
Sister Doris Clarke technical support guru!
Sister Tee Lucas, for dedicated marketing!
Thank You To All Those Zeta Members (My Wonderful Sorors) Who Beautifully Recited And Videotaped Harlem Renaissance Poetry! Every Piece Resonated with your Pure Royal Blue and White Intention!
Thank You, Amanda Marie Thomason, fantabulous graphic designer/web designer/my right hand for over a decade!
Thank You, Darolyn Brown award winning retired Language Arts Educator, Consultant
Thank You Pamela Renee Hall Purifoy marketing consultation
Thank You Abc Morning News 12!!!
Thank You Flint Courier News!!!
Thank You my Cass Tech Class for your Green and White Shine, a safe place to be excellent!
Truth according to Semaj:
Though the result of a project may be sublime, perfect, beautiful, it is the process that brings transcendence. During the months of preparation from conception, to planning, to gathering literature to production of "An Evening of Harlem Renaissance Poetry with Poet Laureate, Semaj Brown and Zeta Beta Zeta,"
people were increased and respected during this process. Love and appreciation swelled while working. Women listened to one another, cooperated using Sisterly love as a tool.
All points of view were valid and encouraged, celebrated. Individual creativity was honored. Participation spread over many levels lifting, and eradicating the prospect of burden for one person. Yes, it was work intensive.
But, it boils down to how we treat one another. Can we see one another? Can you see yourself? And if we do not understand, can patience be held like a flower waiting to bloom?
Will you study to know? Will you remain open and try, or will the work all end in a frustrating heap of agony?
Self- determination for me encompasses how we move with, inside and around one another. It is not just about getting the job done, which is the least of it.
Does such cohesive work form a force which propels us forward? In other words, does positive energy extend into other areas collectively or personally? For me, the measure of a successful project is in the process as much or more than it is in the product.
Serving is a glorious experience; to enrich, enlighten, and inspire, and thus empower the community is the goal— my goal.
Through the offering process, I too am enriched, inspired, and empowered via working and giving. It is a natural cycle of flight science.
Wind from implementation wheels spin a backdraft, catching under wings so I might fly lifting others. We all spread like the Sun. This happened during the Making of a Harlem Renaissance Evening of Poetry.
I am yet feeling illuminated because of the collective light you All reflected. Keep the glow, glowing.
This is the model, the standard for collective work going forward. Nothing less, only stars for All.
Thank you! Love You!
Cultural Literary Director of an Evening with Harlem Renaissance Poetry
#Flint'sFirstPoetLaureate #HarlemRennaissance
#AcademyofAmericanPoetsPoetsLaureateFellow
#Poets.org
#AcademyofAmericanPoets
Rock!