Flint's First Poet Laureate, Semaj Brown – Platform
The Poetry Pod Project (P3) is the interdisciplinary intergenerational literacy platform of Flint's First Poet Laureate, Semaj Brown who is recognized by the Academy of American Poets. P3 utilizes poetry and literacy games to teach reading and writing while incorporating the arts and the sciences.

Reading Word Warriors, a component of the Poetry Pod Project addresses the significant "Word Gap" between poor children and their wealthier peers. Flint and Friends of Flint are encouraged to participate as reading volunteers. Reading Word Warriors or volunteers are asked to sign up to read to either, Early Childhood Development (children 0-5 years of age) or Elementary School students. Read More About the Children's Poetry Show.


Poetry Pod Workshops are derived from the interdisciplinary, interactive methods created by Poet Laureate, Semaj Brown, coined —TiSiWiDi. Semaj, an educator and curriculum builder has incorporated TiSiWiDi, science /art applications since 1989 to expand the imagination and skill set of students. TiSiWiDi methods have also been utilized as a professional development tool for teachers, to elevate standardized test scores, and as a self-actualization program for women.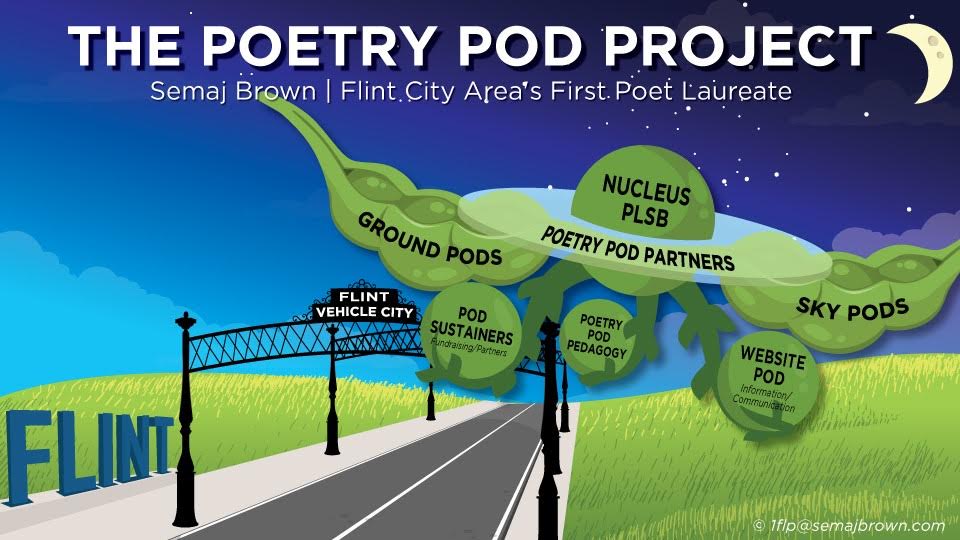 Flint's First Poet Laureate, Semaj Brown's Poetry Platform Partners:
The Pierians, Incorporated-Flint Chapter
Flint Institute of Arts
University of Michigan-Flint Department of English
College of Arts and Sciences
The Flint Courier News
Flint and Genesee Literacy Network
GISD Early Childhood Development
Zeta Phi Beta Sorority, Incorporated Zeta Beta Zeta
Freeman Elementary School
Grace Cathedral Community Church
Mt. Olive Missionary Baptist Church
Flint Freedom Schools Collaborative
Woodside Church
Genesee County Medical Society Alliance
James E. Kennedy Family Life Center
Mt. Carmel Missionary Baptist Church