Word Power Virtual
Written by Tanya Terry
Word Power: How Words Define and Confine Our Reality is a project Erica Britt and Semaj Brown have been talking about with excitement since around early May.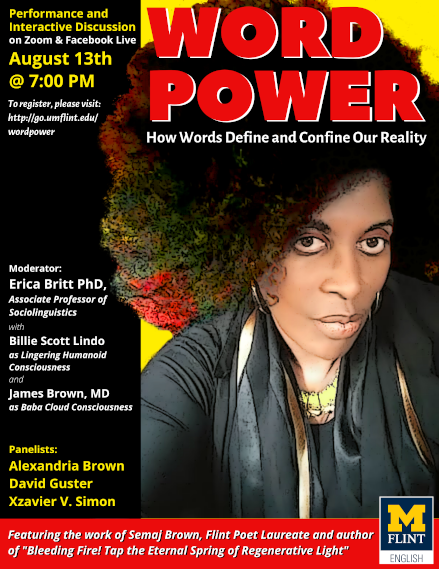 Britt and Brown agreed it would be a great opportunity think about how Brown's poetry connects to the COVID-19 pandemic and the social upheaval that has been going on since George Floyd's death.
"In June we starting seriously planning, thinking about setting a date in August as a good time to process what's going on, then jump into a discussion about the power of words," Britt said
Britt is an associate professor of sociolinguistics at the University of Michigan-Flint. She reached out to her English department at the university and asked if they would be a sponsor, which they agreed to.
Brown, Flint's first poet laureate, and Britt have done a couple poetry readings and discussions within the past year. The soon coming event taking place at 7 p.m. August 13 features poetry performance, a discussion on the power words exert over our everyday lives moderated by Britt and a panel discussion. Britt has produced several pieces of published research on how language influences the world around us, including Can the Church Say Amen, which is about how speakers such as politicians use Black preaching style. The most recent piece she published in the Journal of Linguistic Anthropology is Oral History and the Discursive Construction of Identity in Flint, Michigan, in which she talks about how Flint residents comment on the way they're described in the media.
"As chair of the English department at the University of Michigan-Flint, I find it to be an honor and a privilege to recognize, support, and provide space for Dr. Erica Britt, Flint Poet Laureate Semaj Brown and all other event participants," said James Schirmer, PhD . "Words matter. We know this, of course, but how words function right now, their potential for care or violence, particularly amid pandemic and protest, should be of concern to us all. I welcome the opportunity that Word Power brings to the Flint campus and the Flint community, and I am eager and excited for the event itself."
Mandy Myers of the University of Michigan Flint also contributed to the event by creating an event flyer.
"There are a lot of us who are searching, asking what the future going to look like and wondering what kind of power we really have," Britt said. "As a Black woman, I see a lot of things are being done in our community-incredibly violent things. Thinking about what kind of power we have and realizing we have a great deal of power, words are power."
Participants will be asked to think about how they can use language to resist and paint a different picture of who they are for their own communities.
"Our words are seeds in our minds and our words are seeds in our hearts for the future that we want to create," Britt said.
Brown told the Flint Courier News one University of Michigan-Flint faculty member experienced a dramatic drop in her high blood pressure after experiencing her poetry.
"She had been dealing with a lot of stress and pressure from being at work," Britt said. "We had an event in November, last fall. Attending that event was kind of a cathartic experience, and her blood pressure numbers definitely were much better after attending that event. I think a lot of people have that response. I know personally I've had that response. I will have very chaotic, very stressful days. When I was preparing for my first event with Semaj, I was reading her book, Bleeding Fire! I remember I started reading it and I kind of sunk into the couch and disappeared."
Britt describes the way Brown writes as "transformative."
"When she performs it's another level of experience because she's doing things with sound and words and motion that just kind of blow your mind," Britt said.
Billie Scott Lindo, artistic director of Flint's New McCree Theatre and James Brown, MD—Flint area physician and the author's husband, will also perform.
Words are our way of communicating with each other," Lindo said. The powerful words used by Semaj, our poet laureate, must be heard, and used for the power of the mind and the spirit."
"Word Power builds bridges, connections and links between subconscious and conscious minds, between the like-minded and uninitiated, forging the possibilities of community," said James Brown, MD.
Panelists include former Flintside Managing Editor Alexandria Brown, UM-Flint theatre student David Guster and self-published author Xzavier V. Simon.
"Word power means that we don't have to let words that were taught to us, define who we are," Guster said. "I think there are many examples of words that have been used to bring people down over the generations. During times where we had little to no power at all, we were able to create power in our language. Take those words, and instead add a positive connotation, without any outside influence which have been passed down from generation-to –generation and is a never ending cycle. That's what word power means to me!"
"As the magicians of today, language is one avenue where our collective experiences can be catalogued," Simon said. "What language will you use to conjure up and master your reality?"
"Listening to Semaj brought joy, physical and spiritual for me," said Dr Otrude Moyo of the University of Michigan-Flint.
"The comingling of different worlds, the tangible and intangible had the power to calm me," Moyo added. "Her voice, her word and the spirit of sharing managed to lower my pressure. I had been struggling for a change. I felt light and conscious of all my being."
The event can be accessed on Zoom or Facebook Live. Attendees can register by going to http://go.umflint.edu/wordpower.