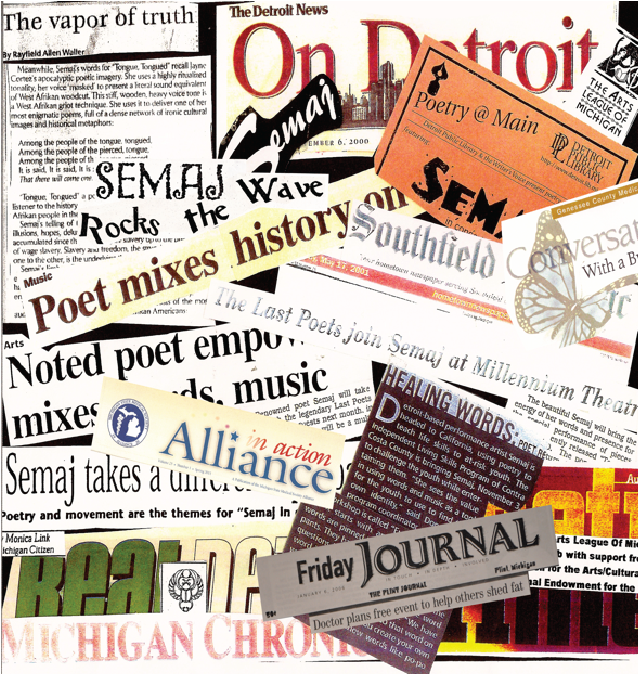 What is Happening Now…Media Releases Since 2013
Semaj Brown has been is a bit of a media fascination, and is often featured in the media due to her civic charge as poet laureate, and her many innovative projects. She is described as a twinkling star; with every flash Semaj's varied dimensions emerge: performer, installation educator, thoughtful poet, essayist, lecturer, and public speaker. These official statements delivered to the media in the form of what is called a media or press release are catalogued, in this section according to the most recent, 2020 — dating back to 2013 with the launch of the Planted Kingdom™ the LLC that creates healthy art/science programming where vegetables are alive on the Green Front, complete with recipes, a vegetarian gluten free story cookbook, and a theatrical production, "Onion Revolt." These media releases tell a story of this eclectic artist's journey. The accounts include Semaj's return from a lengthy poetry writing hiatus with the penning, and performance of her iconic poem, "Mother Ocean" (The Making of a New Tribe), 2017.
Early Media Coverage from 1997-2004
The media began covering the poetry explosion called Semaj during the pre-internet days in Detroit, 1990s. Articles from the Detroit Free Press, Michigan Chronicle, Michigan Citizen, Southfield Eccentric, Real Detroit, and other publications chronicled Semaj's journey. The Metro Times selected Semaj as one of 20, Detroit's finest photographic lay out "Gang of Twenty" in the year 2000 to celebrate the 20 year anniversary of the periodical. Semaj was a favorite guest on WDET public radio, and appeared with the late saxophone and composer the late Faruq Z. Bey, and band on Back Stage Pass, Public Television, host, Cynthia Canty to promote the touted Tongued, Tongued poetry concert and CD release. Special guests for the Poetry extravaganza, The Last Poets, Millennium Theater, Southfield, MI.