East Village Magazine describes Flint, Michigan's First Poet Laureate, Semaj Brown as "…a poet, a priestess, a force of nature, of anger and love…" Semaj is an ever evolving planet with sonic gravitational pull. She thinks outside the line; in fact, Semaj may not see the line, at least not in the same way we do. Her dear friend Arlene, a science fiction enthusiast and storyteller maintains, "There are dimensions to travel, and never ending doors to open within Semaj." Thirty years ago, while having tea, and Astra-projecting to an off the beat cafe in Istanbul, Arlene told Semaj that her life desire was to meet someone from another planet. Explains Arlene, when she met Semaj her dream was fulfilled. "Semaj is a magnificent odyssey, hosting super natural mental capabilities!"

A Broadside Lotus Press Poet who is recognized by the Academy of American Poets, NY, NY, and who is celebrated by the Detroit community where she spent her formative life, Semaj plays down the barrage of accolades, laughing: "But they are the kindest writers of fiction. If I am great, it is because God is great, and my ancestors are great."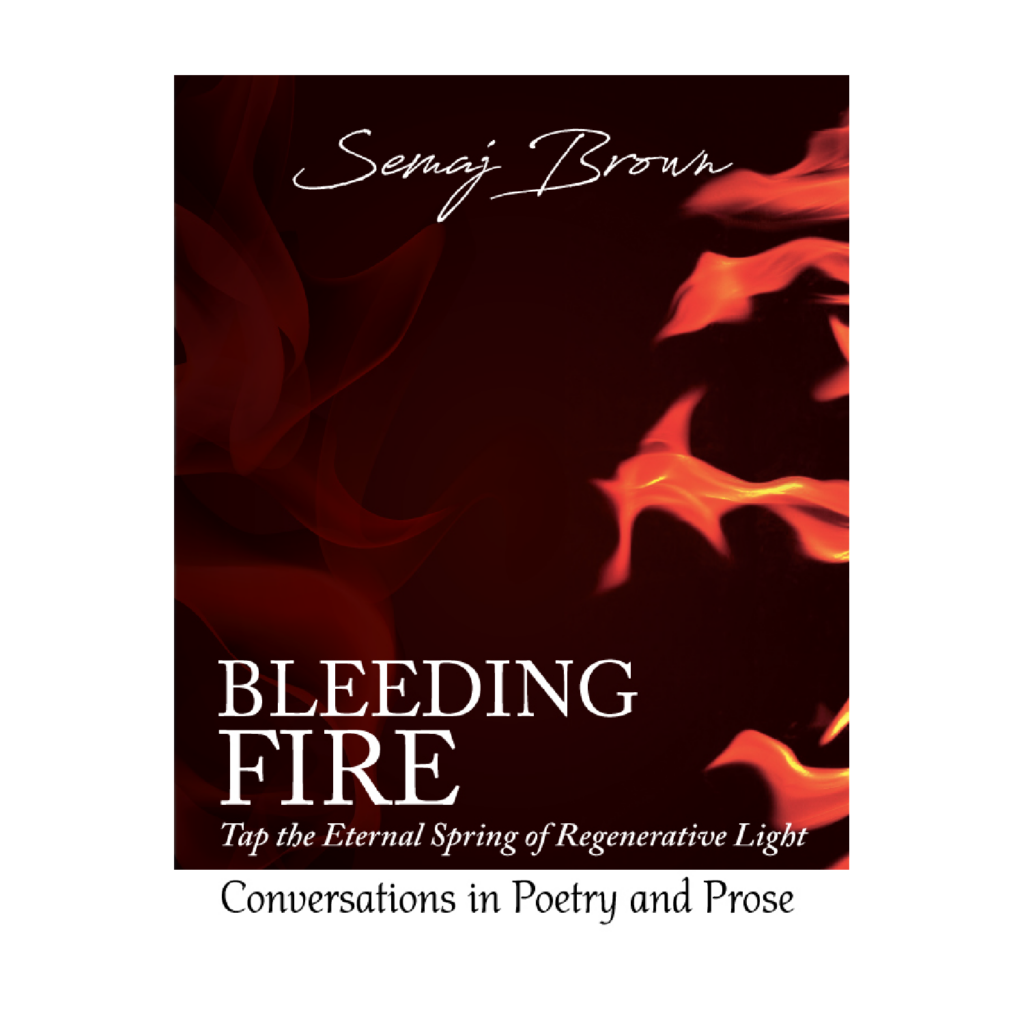 James Brown MD is Semaj's life- partner husband and creative collaborator; together they cofounded Health Collectors™ LLC to foster wellness, and health throughout the community using science / art applications. In the foreword of Semaj's 2019 book, "Bleeding Fire! Tap the Eternal Spring of Regenerative Light" (Broadside Lotus Press, Health Collectors™ LLC), Dr. Brown states, "Semaj's poetry appeals on a multitude of magnetic levels— conscious, subconscious, and preconscious. One must mine densely layered lines to arrive at new ways of seeing and understanding experiences."
Semaj is a science driven fierce educator who sees art in science, math in sentence syntax, and poetry in everything. She is a builder of curriculums across genres, pulling from left and right brain modalities, creating alternative realities in her classroom installations, and during larger than Mt. Everest performances. Casual conversations with Semaj can be mind- bending according to Erica Britt, PhD sociolinguist, University of Michigan-Flint who has serially curated Semaj's work.
Semaj comments: "I intend for my work to stand as a foil against systemic patrilineal structural racism. Magical realism, myth making extended from orbits of ether collude to shift perceptions. What was concretely thought of as truth is questioned. This presents the necessary space to create and revive traditions of power and harmony."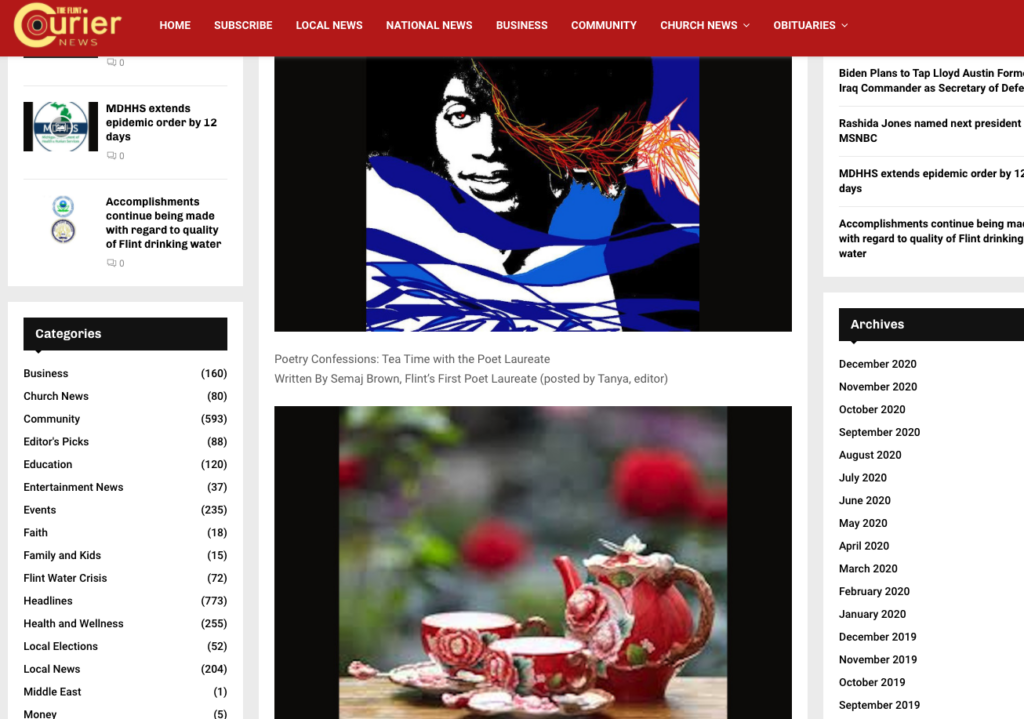 Semaj as an essayist crafts a meld of academic lyricism. The title of the column she writes for the Flint Courier News shares a glimpse into her oddly Victorian Black revolutionary hybrid style of being— Poetry Confessions: Tea Time with the Poet Laureate. Semaj will politely nod, almost coy, before she dons performance mask, head piece with blinking lights, and delivers a mind jarring Post- Earth apocalyptic performance. This happened at The Flint institute of Arts (FIA), 2020. That gala afternoon Semaj was joined by Billie Scott Lindo and James Brown, MD in a work commissioned by the Flint Institute of Arts: Something Called War inspired by the multimedia work, Epoch by the artist, Whitfield Lovell.
When an idea has Semaj, watch for the rain of meteorites as stars burst a universe from her Thought Galaxy of programming: The Poetry Pod Project (P3), Poet Laureate civic initiative that teaches literacy via poetry while utilizing arts and sciences. The Planted Kingdom™ Project is a destination place where vegetables come alive as the roots, seeds, and leaves are activists on the Green Front. Onion Revolt: A Healthy Comedy, a compelling one woman show; Project Water US was conceived, by Semaj and implemented via collaboration with The Pierians Flint chapter. Creating a Vegetable Consciousness, 8 weeks of art science workshops launched at The Boys and Girls Club at Greater Flint, and the Pop-Up Science Lab at the Charles H. Wright Museum of African American History for the Detroit Freedoms Schools Movement are all the result of Semaj's pedagogy. Learn more about Semaj's Academic Bridge and Innovative programming.

Free thinking is not to be confused with free wielding, as Semaj is a disciplined artist, an avid gluten free vegetarian, and a no thank you to offers of alcohol. I think we can thank her mother The legendary Bessie L James for this foundation as Semaj recalls in her Bleeding Fire… book, mother's insistence upon early morning rising to practice violin before taking three buses downtown Detroit to the esteemed college preparatory, Cass Technical High School.

As a result of living in the realm of lyric and melody, dissonant tones, and indigenous harmonies, Semaj can sense an invisible rhythm, and apply that beat to math or music or justice systems. She has collaborated with the finest of Detroit musicians: The late Faruq Z. Bey, Clifford Sykes, and Ras Kente to name a few. When asked about her artistic process, she talks about residing in the "in between" spaces. "I live in between genres and groups of people, in between words and worlds. This way I feel the draft of the overlap. I was not always comfortable in interstitial space, but this is my frequency; it is home now."

Semaj is talking about how she negotiates the world. She is also referencing her integrated, immersive process of creating literature, lessons, and theater. Ayi Robeson, Director of Al Nur African Dance Troupe remembers Semaj as science consultant for Timbuktu Academy of Science and Technology in Detroit: "Mama Semaj entered the room and theatrically declared, 'I am Science! It seemed to echo' you could hear a pin drop. She had the students from that point, and the students learned through her methods that they were science too." Timbuktu went on to receive The State of Michigan Golden Apple Award due to increased scores. Semaj Brown's applied pedagogy helped to elevate statistically negligible scores.

College professors, educators, and programmers working across multiple disciplines enthusiastically embrace Semaj Brown's thought leadership. These professionals understand that Brown's historical/futuristic themes, and multidimensional metaphors are ideal pathways for innovative, intersectional analysis in fields as varied as Africana Studies, Public Policy, Gender Studies, Environmental Science, Law, Anthropology, Diversity Inclusion, Speech, Language, Hearing Sciences, and Literature as this timeline illustrates:
April 2021 (Click to View)
In Celebration of National Poetry Month, "New McCree Theatre  Youth Virtual Art Explosion Features Poet Laureate, Semaj Brown's Poetry, and Workshop:  Poetry is the Pizza of the World.
December 2020 (Click to View)
Carnegie African Diaspora Fellow/Associate Professor Otrude Moyo, PhD, Director School of Social Work Indiana University South Bend utilized "Mother Ocean (The Making of a New Tribe)" and additional writings by Brown in diversity seminar Examining Power, Oppression and Complicity: A Community Dialogue:
"Listening to Semaj brought joy, physical and spiritual to me… kind of a cathartic experience. The comingling of different worlds, the tangible and intangible, had the power to calm me. Her voice, her words and the spirit of sharing managed to lower my pressure. I had been struggling for a change. I felt light and conscious of all my being." Otrude N. Moyo, PhD., MA.,MSW
November 2020 (Click to View)
KENT STATE UNIVERSITY WICK POETRY CENTER, AND CENTER FOR EARTH ETHICS NY, NY EARTH STANZAS PROJECT VOTE THE EARTH Semaj was invited among 40 National poets and artists to participate in a video project that intersects social and environmental injustices with an emphasis on ecological wholeness of the Earth, with inspiration from Where Am I From? by George Ellen Lyons, Semaj penned her Where Am I From Poem for video publication on the Earth Ethics Website: Earthethics.org.
October 2020 (Click to View)
ALABAMA MUSEUM OF CONTEMPORARY ART ARTIST TALK, JASMINE MURRELL, A DIFFERENT KIND OF WEAPON, MOBILE, AL, FEATURING SEMAJ BROWN'S POETIC COMMENTARY, and work from her collection, Bleeding Fire! Tap the Eternal Spring of Regenerative Light. Curator, April Livingston hosts international inter-disciplinary artist Jasmine Murrell's sculpture/video, Living Monuments, Webinar
October 2020
BARUCH COLLEGE, NY, NY ARCHIVES IMMORTAL UTERUS ART INSTALLATION AND VIDEO BY JASMINE MURRELL, AUDIO OF SEMAJ BROWN'S BLACK LOVE INTERVIEW ARE INTERNAL SOUND ART of the installation, also exhibited at DElectrity Festival film maker Isaacs Jacobs, Charles H. Wright Museum of African American History, 2017- Detroit, and University Southern California
September 2020 (Click to View)
UNIVERSITY OF MICHIGAN LAW SCHOOL, ANN ARBOR, MI PROFESSOR SUSAN M. KORNFIELD, J.D.
"As part of our trademark studies, my students experienced "Branded: The Buying, Frying, Making, Baking of African American Domestic Stereotypes," a riveting presentation via Zoom from Semaj Brown. She brought history, science, psychology, anthropology, and economics to bear on the issue of what we see when we see product logos. We will never look at them the same way again."
August 2020 (Click to View)
THE LITERARY LIVING ROOM M. L. LIEBLER, PHD, COLLEGE OF LIBERAL ARTS AND SCIENCES, WAYNE STATE UNIVERSITY HOSTS, WRITERS' VOICE, SEMAJ AS A FEATURED READER- DETROIT (VIRTUAL)
"Semaj Brown is one of the original pillars of the Detroit poetry and performance scene. Her writing has long been popular and acclaimed by Detroit and national audiences. Semaj and her art has well represented our city for decades. Semaj's unique ability to capture the essence of American culture and social justice in her writing is widely respected. She has engaged thousands in our community with her literary work, her creative style of teaching writing and through her incredible and engaging performances. Semaj is an iconic Michigan literary treasure."
July 2020 (Click to View)
SEMAJ BROWN'S VIRTUAL CHILDREN'S POETRY SHOW: "DREAMING IS IMAGINING IS HAPPENING" JAMES E. KENNEDY FAMILY LIFE CENTER – SPONSOR/HOST, PASTOR RALPHAEL D. READ CEO/moderator Semaj dramatizes selected poetry creates a narrative surrounding dreams contextualizing Langston Hughes, Jane Taylor, and other poems, addressing racial unrest and the possibilities peace and self-empowerment. Genesee County Medical Society Alliance Book Sponsor, Pierians, Inc., Flint Chapter Sponsor, Zeta Beta Zeta social media sponsor, Zoom, Face book Live, You Tube, Flint, MI
June 2020 (Click to View)
CARMEN AINSWORTH HIGH SCHOOL FLINT YOUTH PROTEST RALLY FARMER'S MARKET,CARRIE MATTERN, ADVISOR TO FLINT YOUTH PROTEST, LANGUAGE ARTS TEACHER:
"Ms. Brown not only gave permission for the Flint Youth Protest to read her work at their BLM Protest in June, she mentored and educated both organizers David Guster and Eeyshia King. Guster's performance of her piece was the highlight of many attendees. The impact her words, and the passion she has for educating the youth of Flint, is an asset that the community can build on for future growth and success. It is her dedication to community and the culture that resonates within her words. It is her love of education that resonates within her work. We are so grateful to Ms. Brown and her leadership."
March 2020 (Click to View)
NPR AFFILIATE MICHIGAN PUBLIC RADIO, "STATESIDE" THE HEALING POWER OF POETRY WITH FLINT'S FIRST POET LAUREATE- ANN ARBOR MI, INTERVIEW HOST, APRIL BEHR:
"There are some things we can understand through facts. And then there are some things that we may understand better through feeling. Poet Semaj Brown has spent most of her writing life with a foot in both worlds. In her passionate, evocative writing, the natural world and her community intertwine and connect in surprising ways. As Flint's first poet laureate, she's formalized her educational work, while acting as a kind of medium and mirror for the city's response to its water crisis."
January 2020 (Click to View)
FLINT INSTITUTE OF ARTS (FIA), "COMMUNTY" EXHIBIT PERFORMANCE:SOMETHING CALLED WAR — EPOCH, POST- EARTH, AFRO-FUSION POEM PLAY COMMISSIONED SEMAJ IN RESPONSE TO MULTI-MEDIA FEATURED ARTWORK, EPOCH BY WHITFIELD LOVELL. CEO OF FIA JOHN B. HENRY:
"…Her performance was a creative and extremely moving message that kept the entire audience's rapt attention. From my experience of working with artists for over 40 years, I can say she is the real deal and we are extremely fortunate to have her in our city."
November 2019 (Click to View)
THIRD MAN RECORDS ALL ACCESS CAFÉ, DETROIT, MI, PROFESSOR M.L.LIEBLER,PHD, COLLEGE OF LIBERAL ARTS AND SCIENCES, WAYNE STATE UNIVERSITY HOSTS, POETS, SEMAJ BROWN, JOHN SINCLAIR AND OTHERS, Semaj presents literary work with WATER (Historical African Diasporic themes, spiritual, and environmental musing, joined by James Brown, MD on the Arborlune.™
November 2019 (Click to View)
BLEEDING FIRE! AT UNIVERSITY OF MICHIGAN, FLINT, MI ASSOCIATE PROFESSOR OF LINGUISTICS, UNIVERSITY OF MICHIGAN-FLINT ERICA BRITT, PHD:
"When she performs it's another level of experience because she's doing things with sound and words and motion that just kind of blow your mind. I think a lot of people have that response. When I was preparing for my first event with Semaj, I was reading Bleeding Fire! I started reading it and I kind of sunk into the couch and disappeared." – Flint Courier News
November 2019 (Click to View)
LAUNCH POETRY POD PROJECT (P3) KIVA AUDITORIUM UNIVERSITY OF MICHIGAN -FLINT (P3) is the interdisciplinary intergenerational literary, literacy civic initiative of Flint's First Poet Laureate, Semaj Brown. P3 utilizes the reading and writing of poetry and literacy games to create a poetry community ecosystem while incorporating the arts and the sciences.
November 2019 (Click to View)
NATIONAL PUBLIC RADIO, WDET- HOST, STEPHEN HENDERSON INTERVIEWS SEMAJ BROWN ON POET LAUREATE CIVIC INITIATIVE, THE POETRY POD PROJECT, FLINT'S REBIRTH, upcoming Keynote address for the Tuxedo Project, Write-a-Thon Fundraiser, and her Workshop: Myths, Metaphor and Magical Realism – Detroit
September 2019
APPOINTMENT: FLINT'S FIRST POET LAUREATE, SEMAJ BROWN FLINT PUBIC LIBRARY, "AFTER HOURS" POETRY READING AND BOOK SIGNING
"By mayoral proclamation of Mayor Dr. Karen Weaver, presented by Pamela Pugh, PhD, Director of Health Services and Vice President of the Department of Education for the State of Michigan, September 27, 2019, Flint, MI "…Whereas the esteemed members in the arts and literary establishment have recommended and endorsed the idea of the appointment of the First Poet Laureate of Flint…Literature and literacy to be an integral component of a healthy, vibrant community…Ms. Brown, brings her unique history as a poet, author, as well as in community health programming through science and art applications…"
September 2019
ZETA PHI BETA SORORITY, INC. REGIONAL LEADERSHIP CONFERENCE, KEYNOTE SPEAKER: SEMAJ BROWN PRESENTS COMMISSIONED POEM, PEARL FORMATION, poem that chronicles the sorority founders' trials in 1910 as five African American women travel from the South and Ohio to pursue higher education in Washington DC at Howard University- Novi MI
August 2019 (Click to View)
BLEEDING FIRE! TAP THE ETERNAL SPRING OF REGENERATIVE LIGHT: CONVERSATIONS IN POETRY AND PROSE WITH FLINT POET LAUREATE SEMAJ BROWN AND UNIVERSITY OF MICHIGAN PROFESSOR DR. ERICA BRITT AT MOTT-WARSH COLLECTION, FLINT, MI STEPHANIE JAMES, DIRECTOR OF MOTT WARSH GALLERY: CURATOR AND COLLECTION EDUCATOR:
"…Semaj is a gifted poet, performance artist, and creator of prose. She has shown consistency in her creation of original, compelling poetry and performance works that resonate with audiences universally. Semaj's artistry is intertwined with her lifelong commitment and passion for education…Maryanne Mott so enjoyed the presentation."
July 2019 (Click to View)
THE DR. JOHN TELFORD SHOW, WCHB RADIO INTERVIEW, FEATURED POETRY READING SEMAJ BROWN FROM NEW RELEASE, "BLEEDING FIRE!" DR. JOHN TELFORD:
"Semaj Brown's work is deep. Her work is heavy, many layers. It was a beautiful challenge…"
May 2019 (Click to View)
BLEEDING FIRE! POETRY/PROSE MEMOIR MOVED FROM PAGE TO STAGE THEATRICAL DEBUT AT THE CHARLES H. WRIGHT MUSEUM OF AFRICAN AMERICAN HISTORY, DETROIT, MI, WAYNE COUNTY COMMUNITY COLLEGE PROFESSOR OF ANTHROPOLOGY, SUNANDA SAMADDAR CARRADO, PHD:
"I found the essence of our Hindu Goddess Parvati, the daughter of the mountain in Semaj as the smoldering Steaming Monsoon. And, I found elements of Shiva, the lord of time, and destruction in the erupting Mountain character represented by Dr. Brown. Through Semaj's allegorical poem, The Mountain and the Steaming Monsoon, I came to understand my own cultural story more completely. Semaj has a way of storytelling that is universal, primordial magic. My Students wrote encounter papers and some said it felt like church, or what church should be."